The Chapter's Annual Meeting and Washington's Birthday Dinner was held on Saturday, February 23 at Manna's Restaurant and Banquet House in Ballston Spa, NY. Fellowship was enjoyed from 5:30 pm to 6:00 pm, followed by a dinner.

A business meeting and an award presentation was held after dinner, and following the meeting, Saratoga National Historical Park Ranger William Valosin gave a presentation on the art of Colonial Tinsmithing.

On this page you will find photos of the event taken that day. Please click on any image for a larger version.


Ranger Bill Valosin received the Bronze Good Citizenship Award
Photo by: Duane Booth



Secretary Steve Coye with Ranger Bill Valosin
Photo by: Duane Booth



Nancy Ballard with DAR Regent Marion Walter
Photo by: Duane Booth



Genealogist Dennis Marr and wife Sandra
Photo by: Duane Booth



Kurt receives a 30 year service award with Dick and Kay Saunders looking on
Photo by: Duane Booth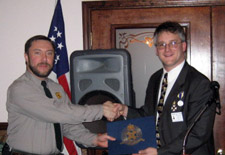 Ranger Bill receives a Certificate of Appreciation
Photo by: Duane Booth