For several years now the Chapter has held a semi-annual meeting in Saratoga Springs following the wreath laying ceremony at Saratoga National Historical Park and this year was no exception. The Holiday Inn had some interior renovations completed since our last meeting which we were able to take in as part of our fellowship time prior to the meeting. We also had the pleasure of sharing our meal with several members of the Ohio Society SAR that also participated in the wreath laying ceremony.
President Douglas Gallant and 1st Vice President Pat Reilly were pleased to install 3 new members to the SAR and our Chapter - David Perkins, Gardner Gurney and Andrew Companion. 2nd Vice President Mike Companion accepted the certificate for Andrew who was unable to attend.

L to R 1st Vice President Patrick Reilly, 2nd Vice President Michael Companion (accepting for Andrew Companion), Gardner Gurney, David Perkins, President Douglas Gallant
President Gallant was honored to present 1st Vice President Pat Reilly with a Military Service certificate and medal in recognition of his prior service to our country. Thank you Pat!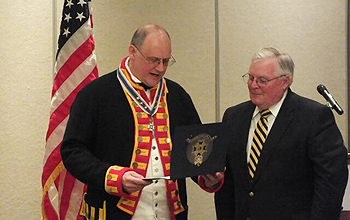 President Galant presenting the Military Service award to 1st Vice President Patrick Reilly
Chapter Registrar Tom Dunne reported that Chapter membership was at 211, an increase of 16 members since our February meeting. It was also reported that 3 members, William Loveday, Bernard Mericle, and Lewis Slocum had passed away. 1st Vice President Pat Reilly provided a brief memorial tribute.
Chapter Treasurer David Flint provided an update on finances. The Chapter continues to maintain a strong financial footing with no extraordinary expenses occurring.
In other business:
President Gallant provided a financial analysis that was undertaken with Treasurer Flint. The goal was to quantify the Chapter's available budget for annual donations to various causes. The number is approximately $2000 based on current conditions.
Approved a $100 donation to the Rensselaer County Veterans Service Agency for advertising in conjunction with a veteran's breakfast that the organization holds.
Approved endorsements for National Officers including current Secretary General Warren Alter for President General.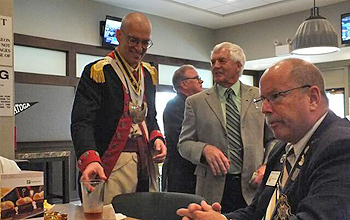 Some pre-meeting fellowship among compatriots
Peter Goebel, David Perkins and Tim Mabee