Larry Arnold and son Tyson were in attendance at the Board of Managers meeting on November 3, 2018 held at Coxsackie, NY. Both were installed as new SAR members of the Saratoga Battle Chapter. Larry is well known in the area as a past president of the Friends of Saratoga Battlefield (Friends) and as a licensed guide at the Battlefield.
Larry, who is chair of the Friends Fundraising Committee gave a brief report on the new Saratoga Surrender Site that their group has been working on. He reports that the fundraising is nearly complete and groundbreaking is in sight. He is in hopes that the October 17, 2019 sword surrender ceremony will take place there.
Empire State Society President Duane Booth, 2014-2017, proudly reports that the Empire State Society and the Saratoga Battle Chapter will be recognized on the donor plaques. Each group has donated at least $5,000 to the project. If you would like more information on the project visit their website at http://friendsofsaratogabattlefield.org/. Donations are still being accepted.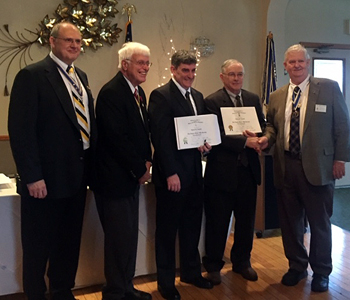 (l-r) Saratoga Battle Chapter President Douglas Gallant, Past State President Duane Booth, Tyson J. Arnold, Larry J. Arnold and State President Hon. James M. Eagan.