The Saratoga Battle Chapter was well represented at this year's Empire State Society's Annual Meeting with nine members attending - President Michael Companion and Treasurer David Flint represented current officers, and chapter webmaster Dennis Booth was also present. Past chapter presidents Duane Booth (2003-2005), Jonathan Goebel (2005-2007) and Primitivo Africa (2011-2013) and chapter members Joseph Fitzpatrick, Peter Hormell and Ford Oxaal were in attendance.
The meeting, held May 4th at the Holiday Inn in New Hartford, was well attended with over fifty members and guests enjoying a fun filled day and a great lunch. As is usual, the Oriskany Battle Chapter did a wonderful job as our host - a hearty thank you to George & Kathy Gydesen and Treasurer Tom Foley.
C.A.R. State Society President Elizabeth Oxaal who is a member of the Schuyler Society (which we jointly sponsor) spoke of this year's theme and her project. C.A.R. Senior State President, Dr. Sara French was also present. It is hoped that Elizabeth will be at our September 15th chapter meeting.
Chapter members Dennis and Duane Booth were each awarded the Silver Roger Sherman award. Dennis received the award for his help with the society's online database and for redesigning and maintaining the Empire State Society's website. Duane received the award for his many years of service to the state society.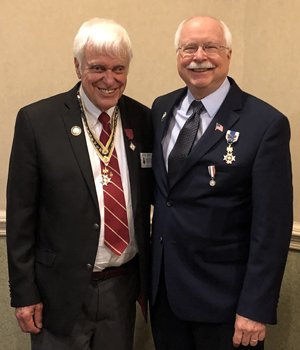 (l-r) Saratoga Battle Chapter Past-President Duane Booth,
Saratoga Battle Chapter member Dennis Booth
Duane was also surprised, and humbled, when ESS President James Eagan began reading a proclamation declaring May 4th 2019 to be Patriot "Duane Paul Booth Appreciation Day." To everyone's knowledge this was a first of a kind proclamation for us but it is certainly is a fine example of how others could be recognized.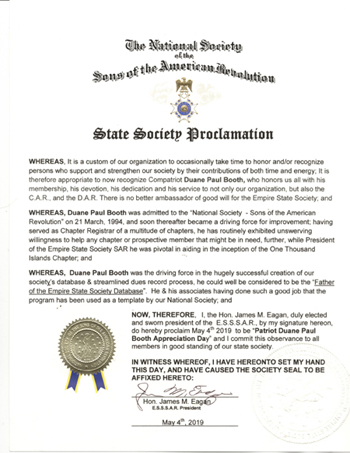 Click image for a .pdf copy of this proclaimation.
Also honored was the Kathryn "Kitty" Fitzpatrick, wife of chapter member Joseph Fitzpatrick. Kitty received the Lydia Darragh award for service to a president during his term. Kitty has long supported her husband Joe as the first lady of the Schoharie-Leatherstocking Chapter and is always there taking pictures and helping SAR members any way she can. Well-deserved, Kitty. Congratulations and thank you!
Under old business the "State Fair" project which would have continued our presence there, largely done in the past by the Syracuse Chapter, was narrowly defeated. New business included a resolution allowing Janice Duncombe, wife of Trustee Raynor Duncombe, to represent our society on the National Society's Ladies Auxiliary. Plans are being made for a lineage society day at an Army Football Game at West Point, likely this fall. Tickets would be available to all SAR members at a reduced rate and we'd be recognized.
We are proud of President Eagan's service to our state society and to the Rochester Chapter. Jim was presented with the past president's pin and certificate. Jim Eagan was also awarded the Patriot Medal for his service to the SAR. Congratulation's Jim and a big "thank you" to both you and Roberta.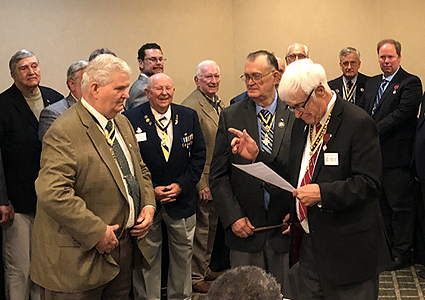 Empire State Society Past-President Duane Booth (R) awards the Past-President pin
and certificate to Empire State Society Immediate Past-President Jim Eagen (L)
Finally, congratulations to our newly elected Empire State Society President, George Gydesen, and to his wife Kathleen, also a hard worker for the SAR, and to the entire Board of Managers that will guide the state society for the next two years.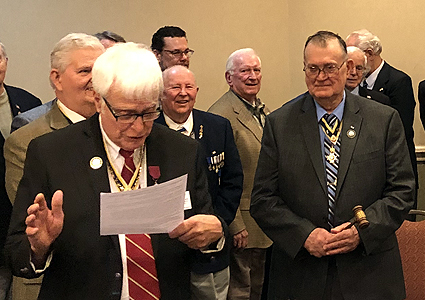 Empire State Society Past-President Duane Booth (L) installs
George Gydesen (R) as the new Empire State Society President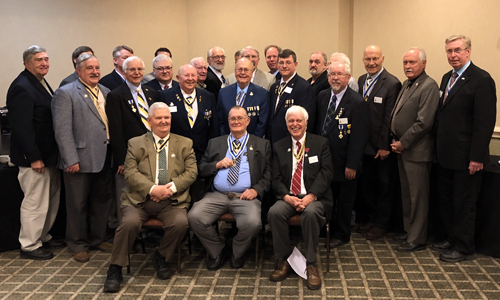 Empire State Society 2019 Board of Managers