SARATOGA BATTLE CHAPTER PARTICIPATES IN THE 225TH ANNIVERSARY OF THE SURRENDER OF BURGOYNE ACTIVITIES
On October 19th a small contingent of Saratoga Battle Chapter members braved inclement weather to participate in the remembrance of the 225th anniversary of Burgoyne's surrender at Saratoga (now Schuylerville).  Chapter officers, Duane Booth, Vice President & Treasurer and Jonathan E. Goebel, Chapter Secretary, ESSSAR Secretary & VP General, North Atlantic District were joined by Chapter members Charles Walter and Harry Taylor.  Also participating with the Chapter were Alice Goebel, Fort Crailo Chapter, DAR and Marion Walter, Saratoga Chapter, DAR and members of the Patriots American Heritage Program at the Christian Fellowship Church School, in Waukegan, Ill.
Chapter members joined the torchlight parade, which kicked off from the newly renovated Saratoga Battle Monument and ended at Fort Hardy Park where British General Burgoyne surrendered to Horatio Gates.  The program at Fort Hardy was emceed by Ed Dague of Channel 13 News and included a wreath laying ceremony which the Chapter took part in.  Other events included the Laying Down of Arms by British Army Re-enactors and included Paul Loding of the Walloomsac Battle Chapter.  Several local and State officials spoke and Governor George E. Pataki gave the keynote address.  The re-enactors and town residents presented a tableau of the Surrender of the Battle of Saratoga painting by John Turmbull.  The program ended with a colorful fireworks display by Alonzo Fireworks.
A resolution to restore Fort Hardy to its historic past and protect it from inappropriate development has been passed and supported by various local governmental units and patriotic organizations, including the Saratoga Battle Chapter.  This "Field of Grounded Arms" is too important to be lost to future generations as the surrender of Burgoyne at Saratoga was the "Turning Point of the American Revolution".    
<![if !vml]>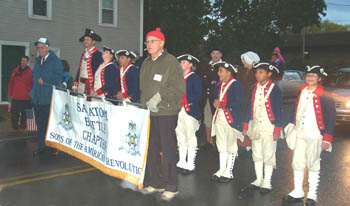 <![endif]>