On Sunday, October 3, at 11:00 am around 40 people gathered to dedicate a new gravestone of Major Jeremiah Cady, who had emigrated here from Dalton, MA after serving the cause for American Independence for Massachusetts. The exact spot of Major Cady's remains is unknown but it is likely in this cemetery or an abandoned one nearby.
The idea for this gravestone marking came about when Barbara Cady, wife of a descendant of Jeremiah Cady, was surfing the Internet and found that Jeremiah had settled in the Saratoga area still known as Cady Hill. The property, including the cemetery, is now owned by Mary Lou Whitney. Mrs. Cady was able to contact Daryl VerStreate, Jr., a member of the Rochester Chapter, SAR & and State Society Patriot Graves Committee Chair who guided her through the paperwork required to obtain the stone.
Michael Companion, Saratoga Battle Chapter Treasurer and a re-enactor with the 2nd Continental Artillery was asked to take delivery of a new gravestone from the United States Veterans Administration. Saratoga Supervisor Matthew Veitch and Saratoga City Historian, Mary Ann Fitzgerald were instrumental in helping Michael to plan a fitting grave marking dedication, including the placement of the veteran's tombstone.
Thanks to all for making this event a success.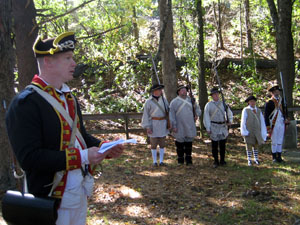 Michael Companion speaks of Jeremiah Cady
Click here to read about Jeremiah Cady: Local Hero


Cassandra and Andrew Companion lead the Pledge of Allegiance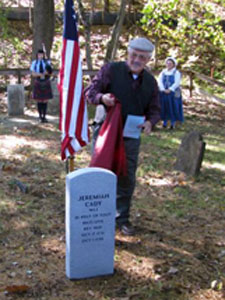 Descendant of Jeremiah Cady unveils the new gravestone
Photo courtesy of Rich Fullam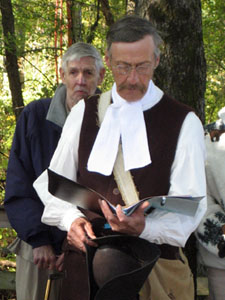 Phil Colarusso, a re-enactor with 13th Reg., 4th Co., Albany Co. Militia offers a prayer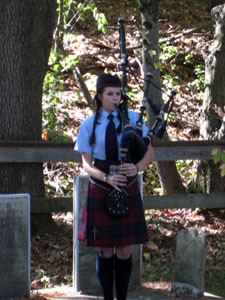 Bagpiper Allison Crowley-Duncan playing Amazing Grace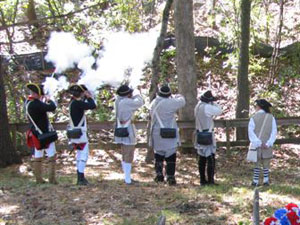 Re-enactors fire 3 volley salute in remembrance of RW Patriot Jeremiah Cady
Photo courtesy of Rich Fullam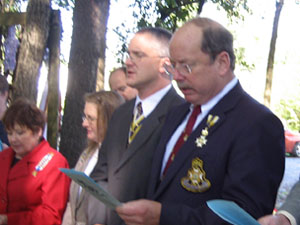 Tim Mabee, of the Saratoga Battle Chapter, SAR leads the recitation of the American Creed