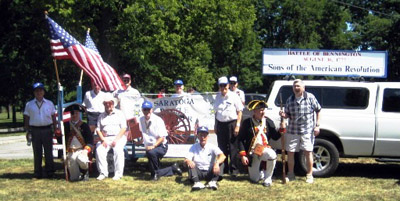 Members of both Walloomsac and Saratoga Battle Chapters.
Thanks guys a great parade a successful event!
Photo by: Duane Booth
Note: This was the first jointly undertaken event by the Saratoga and Walloomsac Battle Chapters. Presidents George Ballard (Saratoga) & John Sheaff (Walloomsac Battle) are to be commended for working together on this event and for their vision of making this the norm for future events where an increased presence will add to SAR visibility, and where more hands will lighten the load for those who plan and turn out for events.

Participants in the parade, some were with other groups, from Saratoga Battle (SB) and Walloomsac Battle Chapters (WB):
George Ballard (SB and WB), Harry Taylor (SB), Charles King (SB), Richard Fullam (SB), R. Harry Booth (SB), Daniel Mead (SB), William Loveday (SB), Bret Trufant (SB), Michael Companion (SB and WB); Lewis Slocum (SB and WB); John Sheaff (WB and SB), Harold Owen (WB), Warner "Ben" Harrison (WB), Paul Loding (WB), Paul Virtue (WB) and Duane Booth (WB and SB).

Carol Slocum drove several of us in her red Mustang convertible - thanks, Carol… we do appreciate you!

Please click on any image for a larger version.


Bill Loveday, Dan Mead, Harry Booth and Paul Virtue; Paul's a member of Walloomsac Battle Chapter
Photo by: Duane Booth



Saratoga Battle Chapter President George Ballard; Getting ready
Photo by: Duane Booth



Ben Harrison, one of the organizers of Walloomsac Battle Chapter
Photo by: Duane Booth



Bemis Heights Society, C.A.R. We are proud to be a joint sponsor of your society!
Photo by: Duane Booth



SBC Treasurer Companion's 2-Pounder; Mike built this gun and fires it at re-enactment events
Photo by: Duane Booth



Saratoga Battle Chapter President George Ballard - Taking a well deserved break!
Photo by: Duane Booth



Paul Virtue, Ben Harrison and Nancy Ballard
Photo by: Duane Booth



SBC 1st Vice President Rich Fullam and SBC Treasurer Mike Companion
Photo by: Duane Booth



Bill Loveday and SBC 1st Vice President Rich Fullam
Photo by: Duane Booth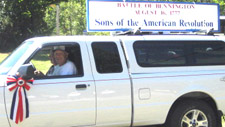 Walloomsac Battle Chapter President John Sheaff and Harold Owen - Nice job decorating your truck John!
Photo by: Duane Booth