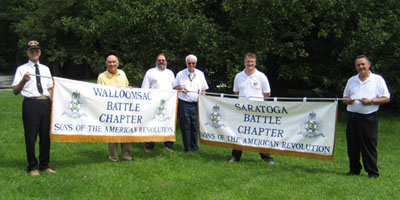 (l-r) Paul Virtue (WB), John Sheaff, (WB), Rick Saunders (SB), Duane Booth (WB),
Rich Fullam (SB), and Charles Walter (SB)
Following several successful joint events Saratoga Battle Chapter President George Ballard and Walloomsac Battle Chapter President John Sheaff continue to have our chapters work together on events. Several members were at the parade but had commitments to other groups. Paul Loding (WB) was with the British Re-enactors; Mike Companion (SB) and Brett Trufant (SB) were with the American Re-enactors; Lewis Slocum (SB) was with the Shriners, and Rich Fullam (SB) was with the Schuyler Society, C.A.R.

Carol Slocum (wife of Lewis Slocum) continues to graciously provide and drive her Mustang convertible. Without a car several of us would not be able to participate, so we again extend our thanks, Carol - your help is greatly appreciated.

John Sheaff continues to amaze us. Thanks John for you ideas on how enhance our events. Your displays and floats always work out and are welcomed by us and those that view them. Thanks, John.

All photos are courtesy of Duane Booth. Click on any photo for a larger image.