The 2009 Turning Point Parade was the fifteenth annual presentation in the Village of Schuylerville, NY. The original idea of the parade was to serve as a public reminder of the importance that our area played in America's fight for freedom. Briefly, the victory at Saratoga in October 1777 is viewed by many historians as the "Turning Point of the Revolution".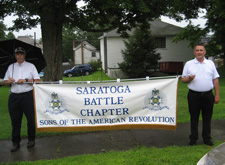 Getting Ready
(L-R) New member Doug Reynolds and long time member Charlie Walter
Carol Slocum, wife of Chapter Member Lew Slocum, has driven members who are unable march almost every year since we started participating in the parade back in 2001. Thanks Carol, we appreciate you being there for us!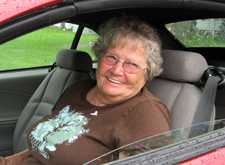 Carol Slocum relaxes in her "Red Pony"
Walloomsac Battle Chapter member Harold Owen and Walloomsac Battle Chapter President John Sheaff, who also belongs to the Saratoga Battle Chapter, escape the light rain that fell.
Saratoga Battle Chapter Members Mike Companion & Brett Trufant are re-enactors with the 2nd Continental Artillery.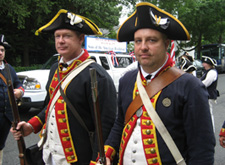 Mike Companion (l) & Bret Trufant
Walloomsac Battle Chapter Member Paul Loding re-enacts with His Majesty's 53rd Regiment of Foot.
New Chapter Saratoga Battle Member George Malinoski and Saratoga Chapter President Richard Fullam carry our colors.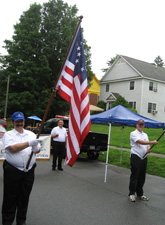 George Malinoski (l) & Rich Fullam of the Saratoga Battle Chapter just prior to kickoff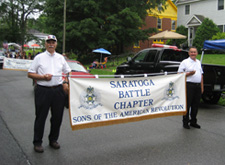 Saratoga Battle members Doug Reynolds (l) & Charlie Walter just prior to kickoff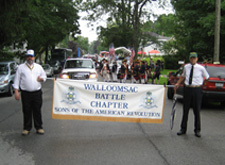 Walloomsac Battle Chapter Members Rick Saunders (l) who belongs to both Chapters
and Paul Virtue of Walloomsac Battle Chapter
As soon as we finished participating we took a moment for a picture with those who marched or rode with the chapters. In the parade with other groups and missing from the following picture are Mike Companion and Bret Trufant, Paul Loding and Lew Slocum.


(l-r) Doug Reynolds (SB), Charlie Walter (SB), Rick Saunders (SB & WB),
George Malinoski (SB), Rich Fullam (SB) John Sheaff (WB & SB), Duane Booth
(WB & SB), Harold Owen (WB) & Paul Virtue