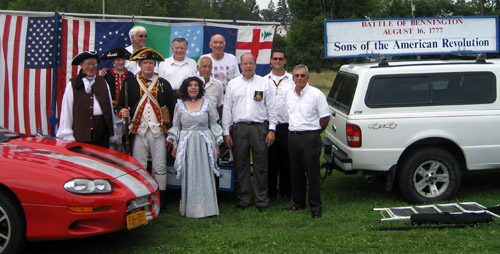 Saratoga Battle Chapter plus wosar, and Walloomsac Chapter SAR after the Turning Point parade
back row (l-r) Duane Booth, Thomas Dunne, Walloomsac Battle Chapter President John Sheaff
middle row (l-r)Andrew Companion, R. Harry Booth, Primitivo Africa
front row(l-r) Karl Danneil, Michael Companion, Eleanor Morris, Tim Mabee, Pat Festa
Photo by Jim Sullivan
The Saratoga Battle Chapter joined forces with the Walloomsac Chapter and more than 100 other groups and 15 musical units to participate in Schuylerville's 17th Annual Turning Point parade commemorating the first Patriot victory against the British Army in the American Revolution.

The August 7, 2011 parade recognized the surrender of the British at Saratoga in 1777 as the "turning point" of the war, which culminated in the birth of the United States of America as an independant nation.

Chapter marchers included president Primitivo Africa, registrar Thomas L. Dunn, chaplain Karl L. Danneil, assistant registrar Duane Booth, and members Tim Mabee, R. Harry Booth and Pat Festa.

Mabee carried a 1776 flag, while Dunne and Festa carried the Saratoga Battle Chapter banner. The Booth cousins carried the Walloomsac Battle Chapter Banner.
The Chapter also had a flag-decorated float and a convertible car with a wosar (Karl's wife Eleanor Morris, General Peter Gansevoort Chapter DAR) in period dress.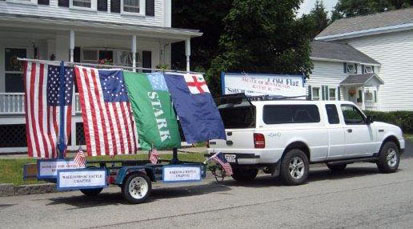 SAR float ready to go; Truck and trailer provided by John Sheaff - Photo by Duane Booth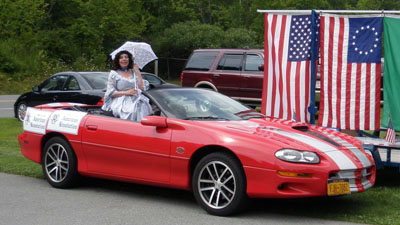 Eleanor Morris (wosar Karl Danneil), in 1776 period costume - Photo by Karl Danneil
Chapter treasurer Michael S. Companion, Mike's son Andrew and member Bret Truufant participated with the 2nd Continental Artillery re-enactors while Paul Loding of the Walloomsac Battle Chapter participated with His Majesty's 53rd Regiment of Foot re-enactors. Also in the parade were DAR members from the Saratoga Chapter in their own decorated vehicle.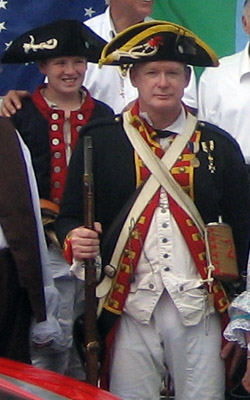 (l-r) Re-enactors Andrew with father Michael S. Companion of Saratoga Battle Chapter
Photo by Duane Booth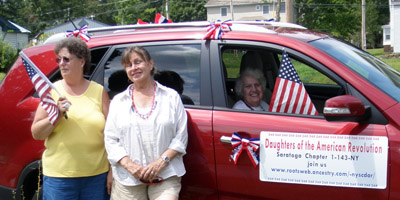 (l to r) Cheryl Doyle, Andrea Hyde, and (inside) Dorothy Mitchell, Saratoga Chapter NSDAR
with their parade vehicle - Photo by Eleanor Morris
The mile-long, one and one-half hour parade through downtown Schuylerville is part of the village's traditional festival honoring the area's culture and military history. This year's parade also recognized its citizens currently serving in the US military.

This was the tenth year that the Saratoga Battle Chapter has participated in the parade, and the fourth for the Waloomsac Chapter.