This year was the first time that a specific event related to Veteran's Day was actually held at the Park. Due to the myriad other remembrances and events including a significant one at Saratoga National Cemetery being held on Veteran's Day proper, this commemoration was held the following day. Estimated attendance was about 125-150 people.
Park Ranger Bill Valosin was the master of ceremony. Color Guard was members of the 2nd Continental Artillery Regiment. Park Superintendent Amy Bracewell provided the formal welcome followed by Ranger Valosin with a brief history of the Battles of Saratoga. Saratoga Battle Chapter 2nd Vice President and 2nd Continental Artillery member Michael Companion read a list of American units engaged during the Battles. This was followed by a recognition of each branch of the Armed Forces including the Coast Guard. A veteran of each branch was asked to come forward and light a candle in a lantern representing his branch of service. The same was repeated for Gold Star and Blue Star mothers. Then there was a wreath laying at the SAR monument that consisted of members of the Saratoga Battle Chapter SAR, Saratoga Chapter DAR, and American Legion members from the Stillwater and Schuylerville Posts. A bagpiper provided by Saratoga Battle Chapter was utilized at different times during the program.
Overall the event seemed to be judged a success and seems likely to be repeated next year.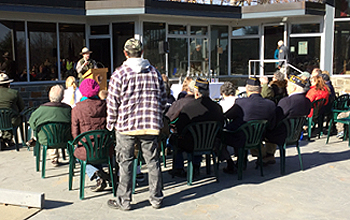 Park Ranger Bill Valosin at the podium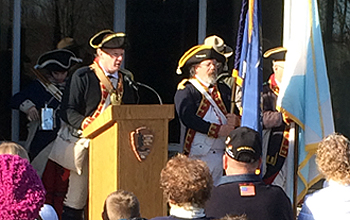 SBC 2nd Vice President Mike Companion reading the list of American units engaged
at the Battles of Saratoga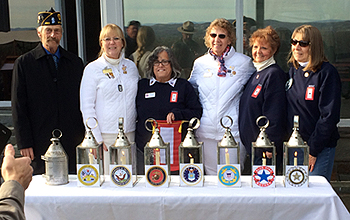 The Gold Star and Blue Star mothers along with an American Legion members
standing with the lighted lanterns