The National Societyís newly elected President General Henry N. McCarl visited the Chapter on Sunday, September 19th and participated in the annual wreath laying ceremony, our chapter meeting and a celebratory dinner commemorating the 110th anniversary of the Saratoga Chapter NSDAR.
The days events started with our annual wreath laying ceremony at the DAR Monument located at Stop 2 on the Saratoga National Historical Park Tour Road. The wreath laying, which honors those who fought at the Battles of Saratoga as well as our own patriot ancestors, was once again held jointly with the Saratoga Chapter NSDAR. This year's event was very well attended and included eight wreaths.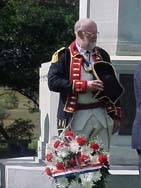 PG McCarl Presents Wreath On Behalf of the National Society
Mrs. Shirley Schadow, Regent of the Saratoga Chapter welcomed everyone and introduced PG McCarl and his wife Mary as well as guests from the Children of the American Revolution, Daughters of the American Revolution and Sons of the American Revolution.
Carol Strong gave the invocation.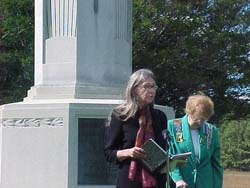 Chaplain Carol Strong and Regent Shirley Schadow Saratoga Chapter NSDAR
The 25th Continental Regiment of Re-enactors from Easthampton, MA upon signal from Regent Shadow presented the colors and she then led us in the Pledge of Allegiance.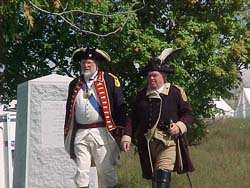 PG McCarl (on left) joins Commander of Troops General Dave Bernier.
Dave portrays Maj. General Horatio Gates
Mrs. Lois Gruner, Director, District IV of the New York State NSDAR gave a history of the DAR Monument and spoke of a 30 cent per member imposed on each DAR member for the years 1930 & 1931.
Saratoga Battle Chapter President Duane Booth announced the organizations presenting wreaths and introduced the person laying the wreath.


2004 Wreaths
Click Here to View Organizations Laying Wreaths
The wreath laying closed with SAR Chapter President Duane Booth leading the recitation of William Tyler Pageís American Creed.
An SAR Chapter meeting followed in the Visitorís Center. During the meeting Chapter President Booth introduced President General Henry McCarl who has joined the State Society and the Chapter as a dual member. State Society President William J. Woodworth and newly elected Historian General Richard W. Sage were also introduced. New member Arthur Young and transfer in member Col. J. Allen Lighthall, Ret. U.S. Army, were also introduced and welcomed.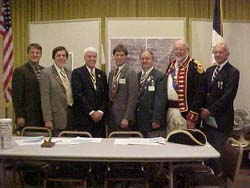 Chapter Officers pose with National Society PG and State President
(L-R) Rich Fullam, Treasurer; Dennis Marr, Registrar; Duane Booth, President
Jonathan Goebel, VP / Secretary; Bill Woodworth, ESSSAR President
PG Henry McCarl and Acting Chaplain Henry Goebel, Jr.
A joint dinner with the Saratoga Chapter NSDAR followed at JeRonís Restaurant and Banquet House in Ballston Spa. On behalf of the Chapter, President Booth presented Regent Schadow with an engraved plaque mounted to an SAR Liberty Bell. The plaque and bell were presented as a token gift to the Saratoga DAR Chapter marking the 110th anniversary of the Chapter.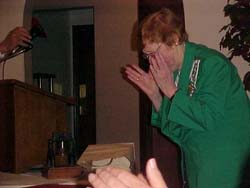 Saratoga Chapter NSDAR Regent Schadow
Opens Gift From Us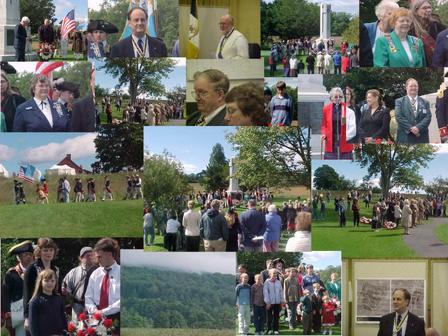 Photos by Duane Booth unless noted.
Event photos: Click on any photo for a larger image