The Chapter held its Wreath Laying at 2 pm on Sunday afternoon September 18th at the Saratoga Battlefield. Again this year clear blue skies enhanced the scenic surroundings of the beautiful DAR Monument located at Stop 2 on the Tour Road.
Chapter President Jonathan E. Goebel was master of ceremony at the annual event which is sponsored by jointly with the Saratoga Chapter, NSDAR.
Chapter Chaplain Peter K. Goebel gave the Invocation.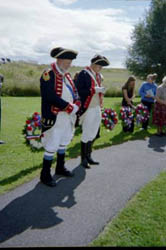 PPG McCarl and Chaplain Peter K. Goebel
The 25th Continental Regiment from Easthampton, MA graciously provided an Honor Guard for us.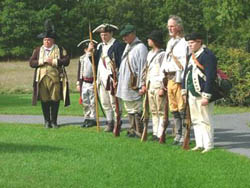 Dave Bernier (left) as Horatio Gates commands his troops -- Photo by Charles Walter, IV
Wreaths were laid by the Schuyler Society, C.A.R.; Bemis Heights Society C.A.R.; Schenectada Chapter, NSDAR; Saratoga Chapter, NSDAR, Empire State Society, SAR; National Society, SAR and the Saratoga Chapter, SAR.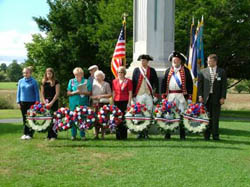 (L-R) Corinne Hare, Schuyler Society, C.A.R,; Jessica Wilson, Bemis Heights Society, C.A.R.; Nancy Rodenmacher & Eleanor Kenyon, Schenectada Chapter, NSDAR; Marion Walter, Saratoga Chapter, NSDAR; Peter Goebel, Empire State Society, SAR; Henry McCarl, National Society, SAR; Richard Fullam, Saratoga Battle Chapter, SAR -- Photo by Charles Walter, IV
Event photos: Click on any photo for a larger image
For a slide show of pictures from this event, click below: