Another picturesque day for our Joint Wreath Laying with the Saratoga Chapter, NSDAR. This year's event just as most are was very well attended with SARs from Texas and West Virginia in attendance.
Horatio Gates (Dave Bernier) a re-enactor with the 25th Continental Regiment from Easthampton, MA was in command of the troops and presented the colors at the wreath laying.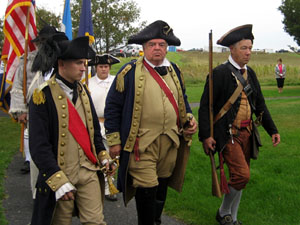 General Horatio Gates (center) leads his troops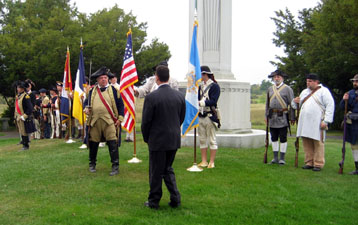 1st Chapter Vice President Primitivo 'Tivo' Africa receives
the colors from General Gates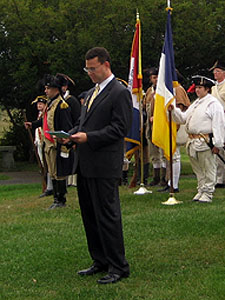 Primitivo gives SAR welcome address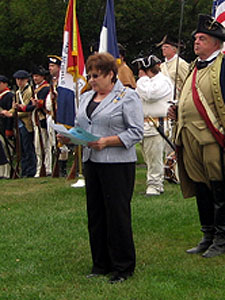 Corinne Scirocco, Regent, Saratoga Chapter, NSSAR
gives the DAR welcome address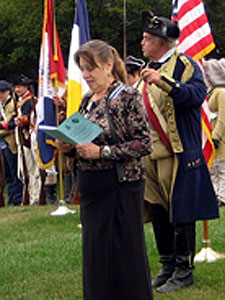 Andrea Hyde, Chaplain, Saratoga Chapter, NSSAR
gives the invocation
2010 wreath presenters:


Heather Mabee - Saratoga Chapter, NSDAR
Dennis F. Marr - National Society, SAR
Charles Walter, IV - Empire State Society, SAR
Michael Companion, Saratoga Battle Chapter, SAR
Katherine Szewczyk, Bemis Heights Society, C.A.R.
Brandon Hare - Schuyler Society, SAR
Finlay J. "Jack" Coles, President, Point Pleasant Chapter, West Virginia Society, SAR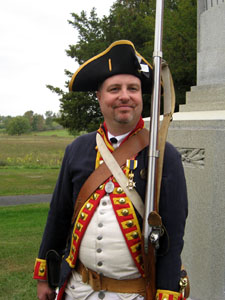 Bret Trufant stands guard at the DAR Monument.
Bret is a re-enactor with the 2nd Continental Artillery
and a Saratoga Battle Chapter member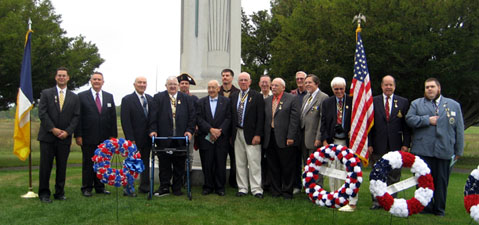 SAR's in attendance(l-r) Primitivo Africa, Charles Walter, John Sheaff,
Ronald Newton, Bret Trufant, Kenneth Brownell, Matt Skellie,
Findlay 'Jack' Coles (WVSAR), Karl Danneil, Stephen Coye, Larry Kinter (Texas Society),
Dennis Marr; Duane Booth, Douglass 'Tim' Mabee, Raymond LeMay.
Known missing: Michael Companion, Thomas Dunne and Harry Taylor
The semi-annual Chapter Meeting followed at the Park's Visitor Center. Two awards were presented by VP Africa: Mike Companion was presented with the Liberty Medal (Awarded at the 2010 National Society Congress in Cleveland, OH) for being the "first line sponsor" on 10 SAR applications.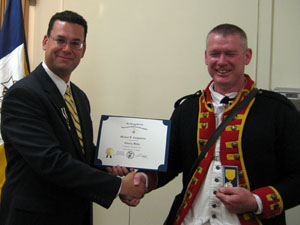 Tivo presents Mike with the Society's Liberty Medal and Certificate
Ron Newton was presented with a certificate for his donation, on behalf of the chapter, to the Centre For Advancing America's Heritage Capital Campaign. A streamer for the chapter's SAR flag was also received as a part of the award.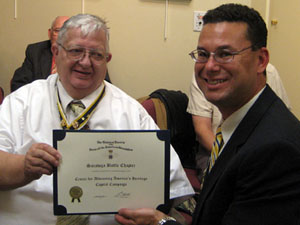 Tivo presents Mike with the Society's Liberty Medal and Certificate
A joint chapter dinner followed the meeting at the Holiday Inn in Saratoga Springs.