On Sunday September 18th the Chapter held its popular Annual Wreath Laying at the DAR Monument, Stop 2 of the Saratoga Battlefield. The event for the past several years has been sponsored with the Saratoga Chapter, NSDAR and now includes other patriotic organizations.
Again this year we were blessed with another sunny, pleasant September day. Our members and guests had a great time greeting one another and picture taking. We were also grateful to have re-enactors camping at the battlefield be our Color Guard. Richard Tucker was in command of the troops this year. Richard is with the 25th Continental Regiment from Massachusetts.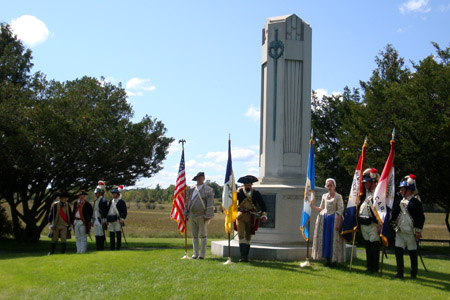 Re-enactors - Photo: Tom Dunne
Regent Corinne Scirocco of the Saratoga Chapter, NSDAR, and Primitivo Africa Saratoga Battle Chapter President began the program with welcoming messages.
Chaplain Karl L. Danneil gave the Invocation
2011 wreath presenters:


National Society, SAR - Past Empire State Society President D.F. Marr
Empire State Society, SAR - 2nd Chapter Vice President, George F. Malinoski
Saratoga Battle Chapter, SAR - Past Chapter President, Duane Booth
Saratoga Chapter, SAR - Member, Carol Strong
Bemis Heights Society, C.A.R - Chaplain, Emily Flannigan
Schuyler Society, C.A.R - Susan Hare for son Ryan, Society President
Chapter Registrar Thomas L. Dunne led us in the Pledge of Allegiance; Immediate Past Chapter President Richard H. Fullam led us in The American's Creed; Chapter Treasurer Michael S. Companion led us in the Pledge to the SAR and Chaplain Karl L. Danneil led us in the SAR Recessional.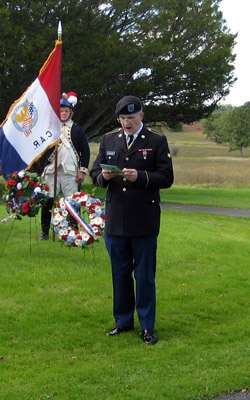 Richard H. Fullam - Photo: Duane Booth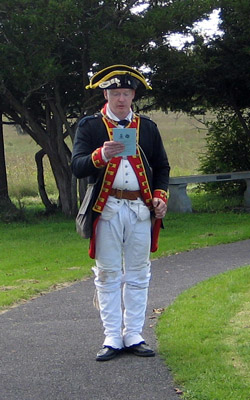 Michael S. Companion - Photo: Duane Booth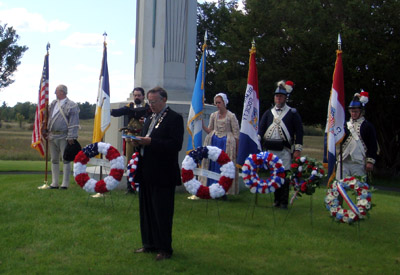 Karl L. Danneil - Photo: Tom Dunne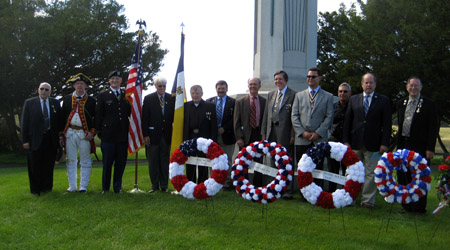 (l-r) Steve Coye, Mike Companion, Rich Fullam, Duane Booth, Tom Dunne, George Malinoski, Joel Bixby *, Dennis Marr, Tivo Africa, Pat Festa, Douglass "Tim" Mabee and Karl Danneil - Photo: Duane Booth
* This is Joel Bixby's a first time at a Saratoga Battle event and likely an SAR event. When Joel joined the SAR in 2007 he did so as a Member At Large, thinking that he lived so far north that it would be difficult to attend meetings. Through the years, Joel got to know Duane Booth through his pursuit of SAR supplemental applications for other Patriot Ancestors (so far he has 9 approved and has more in the works). In November of 2010 Joel decided to join Saratoga Battle and now he's come to an event. Welcome Joel. Duane has heard from Joel and he indicates that he had a great time and appreciates our warm welcome. On behalf of the Chapter you are welcome Joel and we hope that you'll come to other events.
At the meeting that followed the wreath laying Registrar Thomas Dunne was presented the Liberty Medal and certificate by President Africa. The Liberty Medal is presented only once to an individual when they've been the first line sponsor for ten new members. After being awarded the Liberty Medal the individuals receive Oak Leaf Clusters for every 10 additional applications where they are the first line sponsor. Congratulations Tom! Also, thank you for accepting the position of 1st Vice President and on your appointment to the State Society Board of Managers.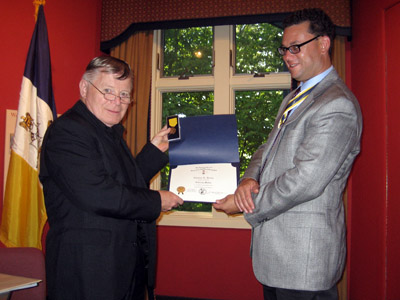 Tom Dunne and Tivo Africa - Photo: Duane Booth
Immediate Past President Richard Fullam presented President Africa with War Service Medal. Charles Walter, IV (Viet Nam) and Jim Hays (WW II) will also receive the War Service Medal