On the 240th anniversary of the Battles of Saratoga, SAR, DAR and C.A.R members and guests came together for an annual wreath laying event at the DAR Monument at Stop 2 within the Saratoga National Historical Park. We were blessed by sunny skies and above average temperatures. A group of compatriots and some of their wives from the Ohio Society SAR made the trip specifically for this event!
The ceremony began with the colors being posted alongside the DAR monument. The Color Guard duties were performed by members of the 2nd Continental Artillery Regiment, Saratoga Battle Chapter SAR and Ohio Society SAR.
Saratoga Chapter NSDAR Regent Heather Mabee opened the program by providing some background regarding the DAR Monument itself as well as the historical significance of the location. Saratoga Battle Chapter SAR President Douglas Gallant followed with some period accounts of the reactions in London, Paris and the States regarding the ultimate surrender of General Burgoyne in October 1777. Jack Bredenfoerder of the Cincinnati Chapter, Ohio Society SAR brought greetings.
The number of wreaths presented this year exceeded that in any recent years. The actual presentation of the wreaths was performed by the following:
Peter Goebel, National Trustee NSSAR
Dennis Marr, Past President Empire State Society SAR
Lee Wilkerson, Secretary Ohio Society SAR
Corinne Scirocco, Past Regent Saratoga Chapter NSDAR
Thomas Dunne, Registrar Saratoga Battle Chapter SAR
Tim Mabee, President Vermont Society SAR
Susan Jackson, Regent Schenectada Chapter NSDAR
Jack Bredenfoerder, President Cincinnati Chapter SAR
Kristen Moore, Regent Gen. Peter Gansevoort Chapter NSDAR
William Robert Hill, Treasurer Hocking Valley Chapter SAR
Dr. Michael Gunn, Ohio Society SAR
Elizabeth Oxaal, President Schuyler Society C.A.R.
Fiona Dolton-Coons, President Bemis Heights Society C.A.R.
Shari Wilkerson, Secretary Women's Auxiliary Ohio Society SAR
Following the presentation of the wreaths a musket salute was executed by members of the Ohio Society SAR. This was a fitting tribute. The ceremony was then brought to a close following the retiring of the colors.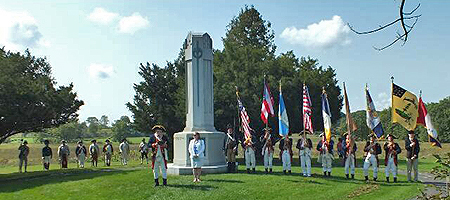 Saratoga Battle Chapter SAR President Douglas Gallant (L) and Saratoga Chapter NSDAR Regent Heather Mabee (R) with the musket unit and Color Guard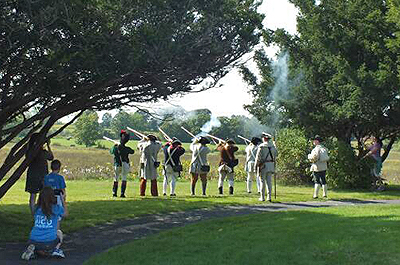 The Ohio Society SAR members providing the musket salute.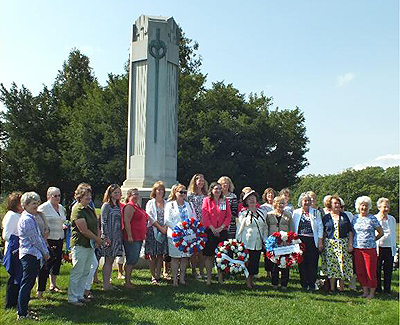 All of the DAR members present at the ceremony.