The 241st anniversary of the Battles of Saratoga was a wonderful late summer day of bright skies and a bit of heat. Many individuals gathered at the DAR Monument at Stop #2 in the Saratoga National Historical Park. Most were members of various Chapters of the SAR, DAR and C.A.R. but some Park visitors joined the ceremony as well.
The color guard consisted of members of the 2nd Continental Artillery Regiment and several SAR, DAR and C.A.R. members. Once the colors were posted, a welcome was given by Saratoga Battle Chapter SAR President Douglas Gallant followed by Saratoga Chapter NSDAR Regent Heather Mabee. The Invocation and Pledge of Allegiance followed. Then President Gallant provided a reading of a letter written by General Horatio Gates on October 12, 1777, regarding the events at Saratoga. The recipient was John Hancock who was then presiding as President of the Continental Congress.
The presentation of wreaths was performed by the following individuals:
Peter Goebel, Vice President General NSSAR
Duane Booth, Past President Empire State SAR
Nicole Shiller, Saratoga Chapter NSDAR
Susan Jackson, Regent Schenectada Chapter NSDAR
Kristen Moore, Regent Gen. Peter Gansevoort Chapter NSDAR
Thomas Dunne, Registrar Saratoga Battle Chapter SAR
Jack Bredenfoerder, President Cincinnati Ohio Chapter SAR
Bridget Lasky, President New York State C.A.R.
Alexandra Oxaal, President Schuyler Society C.A.R.
Tim Mabee, Vermont Society SAR
Shaun Smith, New Hampshire Society SAR
Jack Bredenfoerder, Germany Society SAR
The ceremony was concluded with a recitation of the the American's Creed and Pledge to the SAR, then the Benediction and finally the retiring of the colors.
We hope to see many people attend the 242nd Anniversary event next year!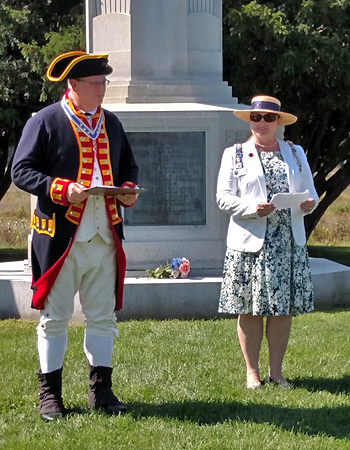 Saratoga Battle Chapter SAR President Douglas Gallant and Saratoga Chapter DAR Regent Heather Mabee welcome guests to the ceremony.