Welcome to the Saratoga Battle Chapter of the Sons of the American Revolution website.

The Saratoga Battle Chapter is one of the larger chapters within the Empire State Society, and is chartered by the National Society of the Sons of the American Revolution. Many of our members reside in, or have a connection to, the Capital District/Saratoga region of New York State, which our chapter covers geographically.

We are extremely proud to represent our Society in an area so rich in Revolutionary War history. The eventual American victory in the second battle that was fought here, and the resulting British surrender at Saratoga, (now Schuylerville), are considered to be the Turning Point of the American Revolution.
WHO WE ARE, AND WHAT WE DO
The Sons of the American Revolution (the "SAR") is a patriotic, historical and educational lineage society. The National Society was founded on April 30, 1889 and chartered by an Act of Congress on June 6, 1906. Societies exist in all fifty states and very likely a chapter can be found near you. We are non political and non sectarian. We are a society of gentlemen who enjoy the fellowship of a common interest and who want to preserve the memory of our Patriot Ancestors and keep the freedoms that they won for us with their service and sacrifices.

Our activities may include grave markings of patriot ancestors, displaying our flag, remembering American holidays such as Washington's Birthday, July 4th, Flag Day, Constitution Day and Patriots Day, laying wreaths, sponsoring youth contests and programs that relate to the Revolutionary War history, recognizing members of the community, government and our uniformed services for exceptional or patriotic service and encouraging the preservation of Revolutionary War history.
HOW TO JOIN
Proving that you have a Patriot Ancestor can be challenging but it is far from impossible and, once it is proven, it is good for generations to come. Perhaps a family story places a forefather in the Revolutionary War or has them supporting the cause in another way. The ancestor need not have your last name and may be on either your maternal or paternal side, but you must document the direct line. If you have a possible ancestor, that's a good first step. Click on to the following link for help on joining.
YOUTH IN SAR
SAR Contests & Awards, N.S.C.A.R, Youth Membership and Education Programs
The Saratoga Battle Chapter supports and participates in many of the youth programs sponsored by the Society. Information on the youth programs that we participate in can be found by clicking on the link below. Additional programs that we do not participate in can be found on the National SAR site.
OUR CHAPTER HISTORY
Saratoga Battle Chapter came into existence in 1974 as the Admiral George Browne Capital District Chapter. In the ensuing nearly thirty years, the chapter was known as Yankee Doodle Chapter, Saratoga Battle-Yankee Doodle Chapter, and finally Saratoga Battle Chapter as it's known today.
One of the first projects undertaken by the chapter was the installation of a 200th anniversary monument at the Saratoga National Historical Park in August of 1974 (dedicated in 1977). Over the next several years, the chapter nearly fell into non-existence on more than one occasion, but survived through the actions and loyalty of a few key members. After changing the chapter name to Yankee Doodle, momentum and membership began to pick up, with the membership rising to forty members in 1982.
Over the period of the next several years, the chapter's membership began to take root in the community, continued to increase membership and awarded medals to deserving members of the community. The chapter's name was changed again in 1986 to Saratoga Battle-Yankee Doodle and was changed finally to Saratoga Battle in 1988. Saratoga Battle Chapter has had an on-going commitment to the study of the patriotic lineage of it's members, with particular attention to events concerning the Saratoga Battlefield and the National Cemetery.
Past Chapter Registrar Dennis Marr has compiled an engaging history of Saratoga Battle Chapter from records kept for the period 1974 to 1998. Here is an excerpt from his introduction:

"Our chapter has had a precarious existence over the past twenty-five years, nearly going defunct more than once. This should be an object lesson to all of us.... all that is required for a viable organization to become irrelevant and inactive is for its members to stop caring whether or not it does so..."
[Click Here for More Saratoga Battle Chapter history from 1974-1998]
FORMS AND BROCHURES
CONSTITUTION & BYLAWS
Chapter Constitution & Bylaws
Sartoga Battle Chapter's governing documents
[Click Here]
LINKS
Links Policy:
Click here for an explaination of our links policy for linking to and from our site.
Link Categories:
Click here for an explaination of how our links are categorized.
Links Page:
Click here for detailed listing of our Internet Website Links, including lineage societies, genealogy resources, and historical information, events and sites.
FIND US ON FACEBOOK
UPCOMING CHAPTER EVENTS & ANNOUNCEMENTS
Click on any event for more information
CHAPTER HIGHLIGHTS
PHOTO HIGHLIGHTS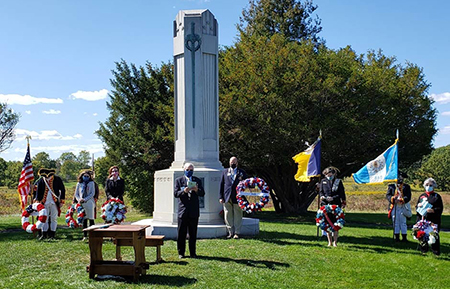 Descendants of Patriots gathered at the Monument to the Unknown American Dead on Sunday, September 20, 2020, to pay respects to soldiers buried nearby during the Annual Memorial Wreath Laying ceremony at Saratoga National Historical Park.

Dedicated in 1931 by the Daughters of the American Revolution of New York State, the "DAR Monument" is the largest in the historic site. It was dedicated to unknown soldiers believed to have been buried nearby during the critical Battles of Saratoga.

Wreaths were presented by Douglas M. "Tim" Mabee, VPG, New England District, Sons of the American Revolution; Diane Russell, Vice Regent, Saratoga Chapter, National Society, Daughters of the American Revolution (NSDAR); Tamaris Dalton, Regent, James McCrea Chapter, NSDAR; Kristen Moore, Regent, Peter Gansevoort Chapter, NSDAR; Judith Peck, Regent, Schenectady Chapter, NSDAR; Elizabeth Moore, President, Schuyler Society, Children of the American Revolution; and Doug Gallant, Past President, Saratoga Battle Chapter, SAR.
Photos From Our Activities and Events
[Click Here]
ARTICLES & EVENTS
Article & Events Archives
A collection of articles written by or about Saratoga Battle Chapter and our activities
[Click Here]
CHAPTER NEWSLETTER
* BATTLE LINES *
The quarterly newsletter of the Saratoga Battle Chapter
[Click Here]
STATE NEWSLETTER
* EMPIRE PATRIOT *
The quarterly newsletter of the Empire State (NY) Society
[Click Here]
CHAPTER OFFICERS
Edward W. Munger, Jr.
President

Michael S. Companion
Immediate Past President

Michael R. Skelly
1st Vice President

Michael A. Hernandez
Secretary

David Flint
Treasurer

Thomas L. Dunne
Registrar

Duane P. Booth
Genealogist

Karl L. Danneil
Historian

Charles W. Wheeler, Jr.
Chaplain

ONLINE DUES PAYMENTS
NEW!! Online Dues Payments
Online payment of dues is now available to Chapter Members
[Click Here]